FOOT AND MOUTH DISEASE
has struck us. On Wednesday 14 March 2001 around 9 a.m., we noticed a tiny lesion on a ewe's gum; 36 hours later all the sheep, cattle, goats, and our beautiful llama, Amber, were on the funeral pyre,which burns as I type this. A lifetime's work going up in smoke.
March 17.
Our one ray of hope, 100 ewes which we had sold to a neighbour some weeks ago, were killed today as "dangerous contacts". We had hoped that we might be able to have them back when we were clear and so kickstart our business again. It pays not to have hopes at this time; they get smashed so quickly.
Even worse is that a neighbouring pig farm is almost certain to be taken tomorrow, even though, despite being under close scrutiny, no signs of disease have been found. We are told that one pig excretes 2000 times as much virus as one cow, and that an infection in this outdoor herd would devastate the entire region.
March 18
For the third time, the lorries are rolling up with sleepers, pallets, coal etc., this time for our neighbour. They are being unloaded here since the pig farm is totally inaccessible to the lorries. Everything is then to be reloaded onto trailers and moved on. So this evening there will be three fires around our beautiful valley.
In the meantime, we are just sitting around, waiting, nothing to be done until the cleansing team gets going. The entire farmyard has to be cleaned and disinfected; anything that can't be will be burned or composted.
We have been completely overwhelmed by all the messages of support we have received: letters, e-mails, phone calls, flowers. In a way these have been the most difficult part to cope with emotionally. Coming to terms with the fact that so many people are sharing our loss is a terriffic encouragement to us, and will continue to be so.
March 20
At last, today we have been visited by the assessor from the clean-up squad, and we have been able to make a start on clearing the yards. It is good to be able to do something constructive again. The other pleasing thing is that, as yet there are no more confirmed cases locally. It will make our loss bearable, just knowing that thereby other stock around here have been saved.
March 24
At long last the clean-up crew has arrived. The trouble is that half their equipment hasn't! The first job - cleaning out the settlement tanks - did, however, get started. Unfortunately the outlet coupling of the pump vibrated loose and covered one of the men head to toe in well-fermented, thick, black farmyard slurry. This provided the first real laugh here for weeks! The poor chap afterwards said he thought he had struck oil.
A most unexpected side to this whole episode is the way the whole community is sharing our sense of loss. We knew we lived in a caring place, but we were unprepared for the cash gifts that have come pouring in. It is as if this farm belongs to the community, and the inhabitants are determined that we will be back in business, no matter what. We are completely overwhelmed by such generosity; no amount of thanks can express our sense of being uplifted by all around us. Thank you, everyone who, in any way has helped us through this time. We are now looking positively forward, and starting to plan our recovery. The big unknown factor is when we will be permitted to start restocking; that depends on how the outbreak goes generally; it could be two months, six, or even longer. We have to sort out our living in the meantime, but we know we won't starve with such friends.
March 28
Most of the farm has now been pressure-washed and is looking as it's never looked before - sterile and soulless. I was in the habit of checking the place round about midnight every night, but now I hate going there. My old dog, Poppy just wanders about the buildings looking lost and confused, although the young one, Buzz, really enjoyed having the cleaning contractors to bite. The men are still waiting on a cherry-picker so that they can clean off the roof and finish the preliminary clean of the main barn. after that, everything has to be de-greased, rinsed, disinfected and rinsed again several times over.
Media interest still doesn't seem to wane, but it has impressed us how sensitive the press has been. Despite the high level of interest our case has caused locally, the press has always been sympathetic and unobtrusive. Enquiries have come from publications as diverse as The Times (should be March 30 edition) and the Faroe Islands Fishermen's magazine!
March 31
Yesterday recorded our highest ever number of website hits thanks, I presume, to The Times. For those who read that paper, I must make at least one correction: we do NOT sell newborn lambs through the market. The lamb concerned was a finished lamb about 8 months old, and that is quite a big sheep!
Down on the farm the clean-up continues. The last of the equipment has arrived, and most of the initial pressure washing is now complete. The two enormous tanks, brought in to prevent the washings and disinfectant getting into the river Pant/Blackwater are getting dangerously full, so a third has been put in place today; the farm is beginning to look like a fuel depot. Our river eventually provides the water supply for Southend-on-Sea, so it is imperative to keep it clean.
It occurs to me that I have missed out of these notes two curious little reactions to the initial shock of the outbreak. The first was to pay all outstanding bills, and the second to put some ducks' eggs in the incubator. Curious how one's mind works under bizarre circumstances, but I guess ducklings hatching at Easter will give us real hope of rising again. But, don't count your chickens before they're hatched, they say.
In circumstances like this, it is inevitable that rumours start to fly; the one currently airborne is that we never had F&M. I started to write these notes under considerable emotional strain, and therefore they don't really explain what actually happened. On Tues March 13 we were served a "Form D", which is a notice of possible contact. It seems that the day before the first outbreak, we sent a consignment of finished lambs to Colchester Market, one of which came back, having been in the market for around 10 minutes. So on the 13th a vet came, checked us out, and gave us a clean bill of health.
The following morning, May 14, one ewe was a bit slow coming for her food after milking, so we had her over and found a tiny lesion on her dental pad. We called the MAFF who sent the same vet as previously. He went through that entire batch of some 40 sheep, and found two more with similar lesions, but still did not think it was F&M. He telephoned through his report with the recommendation that we take a blood test. He returned from his car with the news that every suspect case was now to be treated as confirmed. You can imagine how I felt at this point; all our stock and a life's work destroyed for nothing. The full force of the Ministry then descended on us, and whilst they were here, one of our cows began showing classic symptoms of the disease. The three sheep and our two cows were destroyed immediately, and the rest next day. The blood taken from the sheep has tested negative, but no sample was taken from the cow. Take your choice; the vets and I believe it was F&M, my son is still not convinced. All that doesn't alter the outcome: the animals have all gone and we are classed as infected premises.
April 2
My son, Kiley, went to a meeting with the Prime Minister, Tony Blair, in Colchester today. It seems the PM is being very supportive of the problems being experienced, not only by agriculture, but also other rural businesses, and is determined that this epidemic will be beaten. He is hoping to pull out all stops to get Essex declared clear as soon as possible.
Meanwhile, down on the farm, we have a new cleaning crew for a couple of days, while the others have a break back home in Liverpool. Also, our resident MAFF man is being replaced by Army personnel. I can't begin to think how many different people we have had on this place in the last three weeks. It must be over 100 !
April 4
Well the army lads have arrived and have spent the day learning the ropes. At one point this morning there were three ministry personnel, two army, myself and my son to supervise the four chaps doing the cleaning. Dare I mention chiefs and indians? Here we are, three weeks after being condemned, and the clean-up is nowhere near completion, not a penny piece in compensation received, and a bank balance going like a sled on the Cresta Run. No, we're not despondent, but just a little disappointed.
Our village primary school has come up with a novel, if somewhat daunting (for me) idea to help. They offered me the job of French teacher! Even odder is that I have accepted! Now how about that for a change of direction? It's just 3 hours a week but every little helps, and I guess I won't be too busy on the farm just yet.
April 6
Today is my daughter, Jessie's 21st birthday. The cleaning gang and army lads decided that they were going to help her celebrate, and bought her a fine bunch of flowers. Well done chaps!
It was, however, the army that took the prize today for entertainment. The two chaps we have here are also covering the pig farm across the river. Now, being an outdoor herd, and considering the amount of rain we have had together with all the heavy machinery that has been there dealing with the disposal of the pigs, the whole place somewhat resembles the Somme. One of our lads managed to get stuck in the mud and being of superior rank, politely ordered the other to surrender one of his wellies. Whilst No 2 was left doing his imitation of Eros in the middle of the field, No 1 proceeded to transfer a foot at a time using the three wellies, digging the spare one out with his hands at each step. Eventually they arrived back here thoroughly bemuddied, boots on wrong feet, but having upheld the honour of the British Army.
I see on the MAFF site that compensation is paid within a week of slaughter; I wonder whose account it has been paid to, because it certainly wasn't ours. The NFU has paid up our insurance claim without quibble; full marks to them. Come on MAFF!
9 April
HEY-HEY! The Ministry has changed its site to read "Farmers are reimbursed the full market value of any animals slaughtered within 2-3 weeks." Unfortunately, even that seems to be a bit of a porky.
There seems to be an end of the clean-up in sight at last; the men think they will be finished here on Saturday or Sunday. We also hear that April 19th is the target date for Essex to be declared clean, although some "on-the-ground" staff doubt if that will be achieved. I suppose that will test how well we have recovered emotionally, with the farm squeaky clean and almost totally empty. For the first time in my life I find that I am appreciating the poultry.
A very helpful exercise through all this mess has been looking for silver linings.
The first, and possibly the greatest, is that our outbreak wasn't a week earlier. As it was we had a wonderful day the previous Saturday celebrating the marriage of our son. I can remember turning a ewe over on the morning of the wedding to check, and thinking: "Roy, I really can't believe you're doing this"! But you just can't stop yourself.
Secondly, we have no more to fear from the disease; no worries of whether it is going to strike, no mounting numbers of unmoveable stock living in worse and worse conditions, no massive food bill with little or no income too cover them.
We are aiming to turn the disaster of a lifetime into a once-in-a-lifetime opportunity. There is the chance to rip up our old, uneven, cracked-up, ill-drained concrete, and relay it how it should be. Also lots of other maintenance jobs that just get put off.
April 14
Easter Saturday and youngest daughter's 19th. But I guess we will remember it as the day of the final disinfection. The ashes have been buried over the last two days, the fire still burning after four weeks. I can't believe any self-respecting virus could still be there.
At last the compensation cheque arrived on the 12th, just four weeks after slaughter, although I see the ministry site still quotes 2-3 weeks.
Tomorrow our band of merry men move on, but today we said farewell to our army lads as they went on leave. Never a crew to miss a chance, our clean-up gang decided that a passing out parade was in order. Failing a band, they gave a stirring rendition of "We'll Meet Again", followed by "Hey Ho" as they marched back to the disinfectant!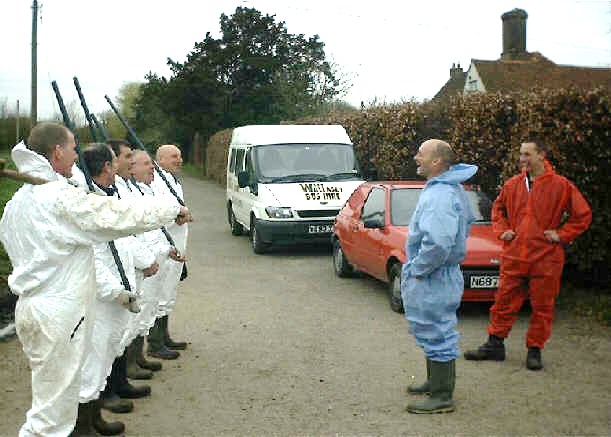 Easter Sunday - April 15
A Happy Easter to All
It's here - the herald of new life right on cue - our first chick has just hatched about 9 a.m. today. There should be a mix of chicks and ducklings - only 14 eggs in total, but a big symbolic boost for the resurrection of this farm.